A UNIQUe Destination in the 
Heart of the Finger Lakes
Enjoy the Finger Lakes from Trumansburg, New York
Beautiful and Tranquil Farm Setting
Perfect for Travel and Retreats
About Us
A Peaceful Retreat in a Tranquil Farm Setting
Welcome!  Our yurt is located on a small farm sanctuary in the Finger Lakes, near Taughannock State Park and the Black Diamond Trail.  It's equipped with a kitchen and bathroom, with sleeping accommodations in an upstairs loft and downstairs futon.  The yurt is heated and cooled with a solar powered heat pump. Guests are invited to the farm to experience a pause in nature and find renewal.  Rentals are available year round through AirBnB.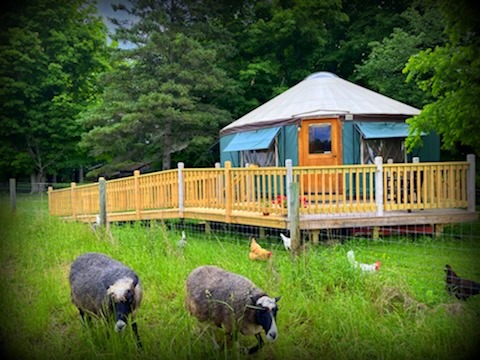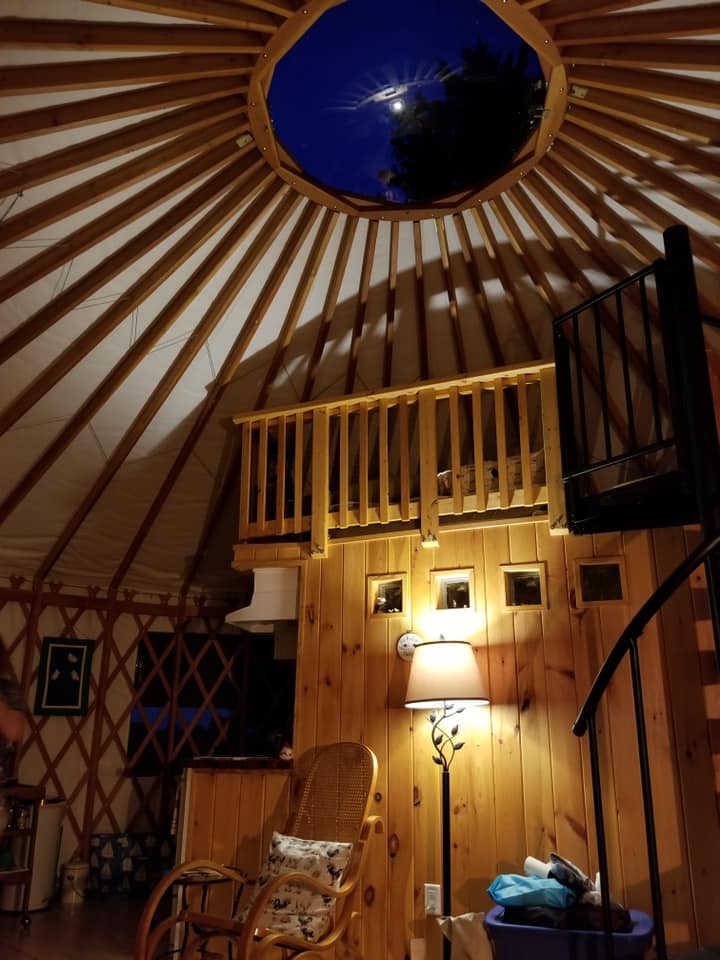 Discover
Our Yurt
Whether you are looking for a quiet vacation or a place to host a small retreat, our yurt is a great place to unplug and experience nature. Situated on our sanctuary farm, guests are invited to experience the peace of a yurt, meet sheep and chickens, and explore all the Finger Lakes has to offer.
Features include:
Private Bathroom
Two Double Beds
Full Kitchen 
Deck
Picnic Area
Explore the
Sanctuary Farm
A Peaceful Retreat
Our sanctuary farm is home to a colorful collection of chickens and a flock of sheep, with rolling pastures and flower and vegetable gardens.  Guests are invited to experience the peace and rhythm of the farm.
Convenient Location
Our location is within walking distance to Taughannock Falls State Park and the Black Diamond Trail, and close to the Village of Trumansburg,  the City of Ithaca, and Watkins Glen. Enjoy picnicking at Cayuga Lake, hiking the Gorge Trail or biking to Ithaca.   Guests have  enjoyed the proximity to the Wine Trail and Montezuma National Wildlife Refuge.
Thank you for a wonderful stay at the yurt…from wineries to hiking, kayaking, and biking, the Finger Lakes has so much opportunity to commune with nature and beauty and you are so close to everything. We enjoyed every minute.
Full Kitchen
The kitchen includes an electric stove, refrigerator, pots, pans, dishes, utensils, coffee, tea, condiments and filtered water pitcher.
Full Bathroom
An accessible bathroom includes a flush toilet, vanity, towels, and walk-in shower.
Bedroom Comforts
There is a double bed located in the loft as well as a futon downstairs that converts to a double bed. Linens and blankets are provided.
Home Comforts
The space is furnished with reading lamps, chairs, table, futon, desk, books, games, magazines, and art supplies.
Outdoor Space
Our yurt has a deck with two chairs.  A  picnic table is available under a canopy of trees.  Enjoy your morning coffee overlooking the farm or an evening sunset while dining outside.
Watersport Amenities
Guests have access to 2 kayaks on a rack at North Point.
Pet Policy
We're unable to accept any pets for the health and safety of the animals on the farm.
Information
Location & Nearby Attractions
Taughannock State Park
Ithaca is a city of gorges, and the gorge at Taughannock Falls, is the biggest of them all.  The waterfall at the end of the lower portion of the gorge is one of the tallest waterfalls in New York State. For comparison, Taughannock Falls is 215 feet high while Niagara Falls is 167 feet high.  The mile-long trail within the canyon is nearly level and easily accessed, making it an excellent trip for all members of the family.
Black Diamond Trail
The Black Diamond Trail is a broad, mostly level, multiuse trail — limited to cyclists, walkers, runners, cross country skiers, and snowshoers.  Its stone dust surface makes the trail a pleasure to ride on or to stroll along in what is essentially a picturesque, eight-mile long, tree-lined alleyway.
Cayuga Lake Wine Trail
From the first sip to your last look at the lake, the Cayuga Lake Wine Trail will impress and inspire you. We call it America's First Wine Trail, but you truly choose your own path when you visit the wineries, soak in the scenery and make memorable moments with friends.
Wining and dining are favorite pastimes, but there is so much more to explore along Cayuga Lake. From secluded waterfalls to lakefront restaurants, this quintessential Finger Lake sets the scene for unforgettable day trips and getaways.
Learn more at www.cayugawinetrail.com 
Seneca Lake Wine Trail
For more than 100 years, grapes have been grown in the highly favorable conditions around Seneca Lake. These grapes are used to produced food-friendly and tremendously balanced wines, which are renowned as some of the best cool climate wines in the world. Just a few of the classic, well-known vinifera (European) varieties you'll find here include Riesling, Cabernet Franc, Chardonnay, and Gruner Veltliner. You'll also come across Pinot Gris (Grigio), Sauvignon Blanc, Cabernet Sauvignon, Syrah, Lemberger/Blaufrankisch, Moscato, and more. Then, there are the more unique hybrids such as Traminette and Marechal Foch, and the classic natives such as Catawba and Niagara. Styles include still, sparkling, fortified, dessert, and ice wines, too. Tremendous quality and vast variety are two things you'll find on Seneca Lake. With dozens of wineries on the Wine Trail, there are hundreds of wines from which to choose.
Learn more at senecalakewine.com
Watkins Glen State Park
Watkins Glen State Park is the most famous of the Finger Lakes State Parks, with a reputation for leaving visitors spellbound. Within two miles, the glen's stream descends 400 feet past 200-foot cliffs, generating 19 waterfalls along its course. The gorge path winds over and under waterfalls and through the spray of Cavern Cascade. Rim trails overlook the gorge. Campers and day-visitors can enjoy the Olympic-size pool, scheduled summer tours through the gorge, tent and trailer campsites, picnic facilities and excellent fishing in nearby Seneca Lake or Catherine Creek, which is renowned for its annual spring run of rainbow trout.
In 2015, the park was chosen from more than 6,000 state parks across the nation as a nominee in the USA TODAY Readers' Choice Poll for Best State Park in the United States, and won third place!
 As the first 'official guests' we were so honored and appreciative of the peace, beauty and hospitality bestowed upon us.  While we were here for only a few days, we leave feeling restored and reconnected. We had fun on the lake kayaking, hanging with some friends, took a really great nap, enjoyed fresh eggs and some veggies from the garden…we are so grateful!
A beautiful and quiet space to spend our 20th anniversary.  Thank you so much for this small escape from some hectic times!
In the three days I stayed at the yurt I had all kinds of weather. When it rained, I felt that I was part of nature with the light sound of rain falling on the central skylight. When it was hot outside, the cool fan came on automatically and it was refreshing to be indoors. The place feels like a cozy cocoon and a great place for a retreat. I slept very well and felt held by the circular space. The place is very well appointed and clean with sweet details that add much warmth.
The sheep and chickens are an additional sweet touch to the whole experience!
It was all just perfect and I know I'll be back very soon!
So grateful to have gotten to spend a week slowing down and relaxing in this beautiful, cozy spot surrounded by tree frogs and insects singing in the late summer.
You guys have created such a peaceful and loving environment and we have thoroughly enjoyed every minute of being here.  It was an amazing first time experience spending time with the sheep.  Can't believe how sweet and lovable they are!  We'll never forget our stay here and hope to return!
Such a wonderful space, very cozy and peaceful.  We enjoyed the Burns Sisters at the Conservatory and hiking trails at Taughannock State Park…looking forward to coming again.  We loved the interior decorations of the yurt–you rocked it!
A regenerative retreat for the full moon!  I loved the circular space for yoga, meditation and contemplative arts.  Can't wait to come back!
We could not be more thankful and appreciative for our time in the Yurt and exploring the peace and tranquility of Rockabye Ridge Farm.  Such an amazing experience.  From your most gracious welcome to the abundance of joy & love from the sheep and chickens, we could not have asked for a better stay.  You have built and created a truly warm and inviting getaway here!  
We had such a great stay on our way back from Ohio. Nothing could have been as perfectly rejuvinating and relaxing.
This place has all the necessities!  Not too much or too little and the light through the dome is wonderful. I loved staying here and 100% coming back!
What a wonderful cozy place for a rejuvenating getaway!  I thought "yurt" meant camping, but this is more like a private hotel.  Highly recommended!